Choose the accommodation
that best suits you
The flat is located in the centre of Malgrat de Mar. It is completely refurbished and has a living room, 2 double bedrooms, 2 bathrooms with shower and a fully equipped kitchen. There is also free WIFI, air conditioning with heat pump, towels and bed linen.
The flat is located 450 metres from the train station and 100 metres from the beach. Nearby there are supermarkets and other services.
Eines reparació de bicicletes
Aparcament de pagament opcional
Punt d'informació turística
Aparcament de bicicletes tancat
Tourist information point
Fee-paying washing machine

LATEST TIME OF ENTRY AND EXIT
En las parcelas la hora de entrada es a partir de las 12h y la hora límite de salida es hasta las 12h. Para salir más tarde, consultar siempre el día de llegada y según disponibilidad.

DEPOSIT
We do not ask for a deposit on the plots.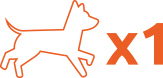 ADMISSION OF ANIMALS SUBJECT TO BOOKING CONFIRMATION
Pets are only allowed (1 pet per accommodation) in the Mobile Homes and plots. Pets are not allowed in the rooms with kitchenette.
Pg. Maritím, 46 – 08397 Pineda de mar (Barcelona) Tel. +34 937 671 778 info@campingbellsol.com.